Welcome to Birmingham Concert Band UK's website
Formed in 1961, 'BCB' is possibly one of the oldest bands in the Midlands Area. The Band continues under the direction of Tony Veale, following the passing of Eric Entwistle. The Band has occupied many rehearsal locations over the past 50 or so years. In the early days, the pubs used for practice (and recreation!) were often in a poor state of repair and soon closed for redevelopment. It was not until the 70's that regular premises became available and the Band enjoyed superb conditions at the Masonic Temple, Edgbaston for many years, followed in the late 90's by a brief, but unsatisfactory, move to a Skittle Alley, before moving to the present venue in Catherine de Barnes, Solihull.
With approximately 1000 items in the Band's library, it probably has one of the largest repertoires of music for Concert Band in the country. The Band 'inherited' the huge library of the City of Birmingham Police Band, containing music publications dating back to the beginning of the 1900's. This has been added to over the years, and more recent publications were purchased thanks to a Lottery Grant awarded in 2000.
The Band has performed at many venues in the Midlands, has appeared in France, and had two trips to Malta and Gozo in the Mediterranean.
Here are some highlights of the Band's first 'Fifty Years'
1973 Premier Award at British Concert Band Festival
1974 Runner-up at British Concert Band Festival
1975 Premier Award at British Concert Band Festival
1976 Band Concerts, Novotel, Metz, France
1980 Social trip to Boulogne, France
1981 Social trip to Ostend and Brussels, Belgium
1983 Concerts at Aurora Theatre and Xewkija Village, Gozo, Malta
1986 Social trip The Rhine Valley, Germany
1987 Concerts at Melieha Bay, Malta and Aurora Theatre, Gozo
1994 Gold Award Boosey & Hawkes Concert Band Festival
2000 Lottery Award for the purchase of a new instrument and music
2001 40th Anniversary Celebratory Lunch
2011 50th Anniversary Celebratory Lunch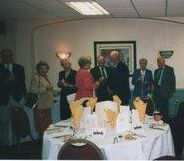 40th Anniversary Celebratory Lunch, 2001
Forthcoming Concerts and Events
Saturday 4th July 2015 Temple Balsall 3pm start. A Concert of American music with the children from Temple Balsall School to celebrate Independence Day
Saturday 12th September 2015 - Garden Fete during Heritage Weekend at Temple Balsall, Knowle. 2pm start
Christmas events are being planned at St Stephens Church Elmdon and at the Baptist Church Centre in Chelmsley Wood, further details to follow Rehearsals continue every Monday evening, except Bank Holidays and school holidays, starting at 19.45 through to 22.00 at St. Catherine's Church, Hampton Lane, Catherine de Barnes, Solihull (next door to The Boat pub; use their car park!)
Our future is your future too
The Band has been performing for over 50 years now, and we will continue to help others to raise funds by providing entertainment at various of events. We would like a busy diary every year. So, if you have an event and would like us to help you, please contact Band Secretary, Sue Fullard at info@birminghamconcertband.co.uk
Vacancies
The Band has vacancies for Concert Band instrumentalists on several stands.
Minimum standard required - Grade V or suitable and appropriate relevant experience in music making.
It is not customary to subject prospective members to the audition process, and all applicants are welcome to attend and settle down for a few weeks before deciding whether they like the Band....... or the Band likes them!
Contact
For more details about the Band and rehearsals, or to book the Band for your event, please contact Band Secretary, Sue Fullard at info@birminghamconcertband.co.uk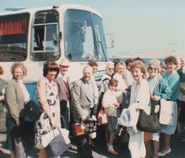 Departing for a Concert, Gozo